EOTEC DevNet's First Newsletter is Out!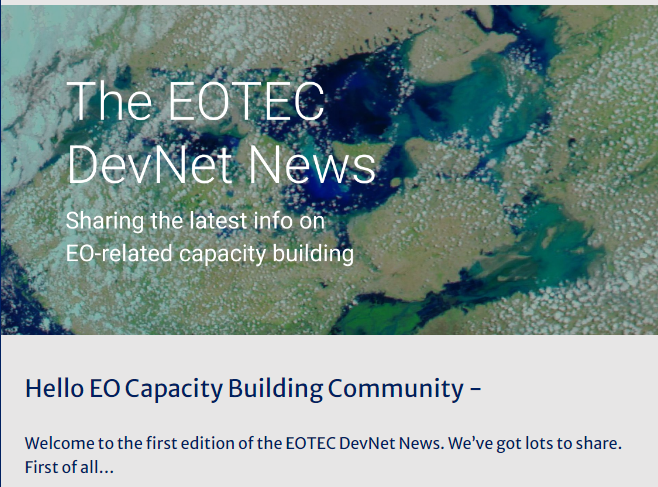 We are excited to announce the release of the first edition of the EOTEC DevNet News! Published on October 6th, this inaugural newsletter is packed with updates, opportunities, and upcoming events that you won't want to miss.
What's Inside?
New Website and Member Platform: Discover our latest updates, training calendar, tools, use cases, and online communities.
Drought Working Groups: Learn about our new initiative to build a drought tools tracker and foster knowledge sharing.
Volunteer Opportunities: Get involved in our efforts to review approaches to EO capacity needs assessment.
Upcoming Events: Mark your calendars for our upcoming Flood Working Group Meetings and a hands-on webinar on the new Copernicus Data Space Ecosystem.
How to Access?
You can read the full newsletter here. If you'd like to receive future editions of the EOTEC DevNet News directly in your inbox, please register here.
Spread the Word
If you find the content valuable, please forward the newsletter to your network and consider sharing it on your social media platforms.
Thank you for being a part of the EOTEC DevNet community!